LillAnne Jackson's (barely updated) Web Page
Teaching

Something good to do near Calgary: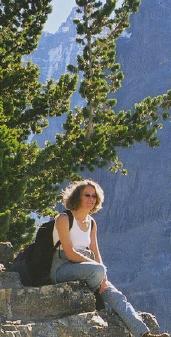 But now that I have moved to Victoria, I will begin the search for a good photo from there!!
A Quick Summary of My Past
Currently: Senior Instructor
Department of Computer Science
University of Victoria

Currently: Ph.D. Candidate (And determined to finish soon!!)
Department of Computer Science
University of Calgary
Research Area: Distributed Systems and Algorithms
Specifically: Memory Consistency on Shared Memory Multiprocessors

Accepted for Publication: Specifying Memory Consistency of Write Buffer Multiprocessors, with L.Higham & J. Kawash
Under development: Memory Consistency and Processor Coordinations on Itanium, with L.Higham & J. Kawash
Under development: A Comparison between Sparc and Itanium Memory Consistency Models, with L.Higham

M.Sc. 1996
Department of Mathematics and Computer Science
University of Lethbridge
Research Area: Computational Geometry
Thesis title: Polygon Reconstruction From Visibility Information


Publication: Orthogonal polygon reconstruction from stabbing information, with S.K.Wismath
Computational Geometry 23(2002) 69-83 Elsevier

Conference: Orthogonal Polygon Reconstruction, with S.K.Wismath
Canadian Conference on Computational Geometry, 1996

Technical Report: VisPak: A Library of Geometric Functions in LEDA, H. Pinto , S.K. Wismath
University of Lethbridge, 1995

B.Sc. 1983
Department of Mathematics
University of Alberta
Significant coursework in Computer Science and Electrical Engineering
Instructional Certificate Program, 1987
Lethbridge Community College
An Adult Education Program for faculty at Lethbridge Community College
Certified Engineering Technologist, 1991
Alberta Society of Engineering Technologists (ASET)
certified as: Electronics Engineering Technologist
Employment: University of Calgary (2001 - 2004)
Computer Science


Course Curriculum Development, 2001: CPSC 559: Distributed Systems
topics include: Communication, Processes & Threading, Naming, Synchronization, Consistency & Replication, Fault Tolerance, Security

Teaching Assistantship, 2002: CPSC 559: Distributed Systems

Sessional Instructor, 2003: CPSC 559: Distributed Systems

Graduate Teaching Fellow, 2004: CPSC 559: Distributed Systems


Employment: Southern Alberta Institute of Technology (1999 - 2001)
Bachelor of Applied Information Systems Technology


Academic Coordinator: Managed a program of over 200 registrants, 5 full time, 8 part time faculty. Managed student and staff issues, planned program updates and growth, ensured all functioned within established budgets, performed as part of the departmental management team.

Curriculum Developer: Designed and wrote curriculum for the Software Engineering Degree: took input from diverse software engineering professionals, created a program, acquired necessary equipment, wrote courses. Courses included: Requirements Engineering, Software Engineering Life Cycles & Standards, Hardware & Peripheral Programming, Algorithms and Analysis, Software Testing & Maintenance, Real-time Software Design, and Software Engineering Design Project.

Instructor: Project Management, Project Design and Implementation courses for Software Engineering, Network Management and Distributed Automation and Control Systems degrees.

Employment: Lethbridge Community College (1996 - 1999)
Computer Information Technology


Program Chair: Developed a new program, including: designed, developed and implemented new courseware, acquired hardware/software, managed budget, recruited and hired staff, managed student issues.

Curriculum Developer and Instructor: Programming (various levels), Operating Systems, Computer Networking, Computer Math, Systems Analysis/Design

Employment: University of Lethbridge (1994 - 1996)
Department of Mathematics and Computer Science


Instructor: Math 1560: Calculus I ; Math 2560: Calculus II

Marker: CompSci 3625: Survey of Algorithms; Math 2865: Combinatorics

Tutorial Instructor: Sociology 1000: Intro to Sociology

Employment: Lethbridge Community College (1984 - 1996)
Electronics Engineering Technology


Instructor: Computer Programming, Digital Analysis and Design, Microprocessor Systems, Digital Communications, Computer Networking, Analog Analysis and Design, Calculus, Laplace Transforms, Video Systems

Chair, Academic Council (1991-1993) The Academic Council reviews and develops policies regarding academic activities of the Lethbridge Community College. Chair activities included: acting as official spokesperson, coordinating all business and operations, preparing agendas and minutes, chairing meetings

Professional Development Coordinator (1989-1990). Planned and organized professional development activities for Faculty. Edited and wrote articles for the PRIDE newsletter, a publication for Faculty Professional Development Activities.


Go here for a list of courses taught.


Member: Association for Computing Machinery (ACM), Institute of Electrical and Electronics Engineers (IEEE) and the Alberta Society of Engineering Technologists.
Volunteer with: Victoria Symphony Guild, regional science fairs, ACM programming competitions and Odyssey of the Mind competitions.
Musician: Played oboe with: University of Calgary symphony, University of Lethbridge Wind Orchestra, Lethbridge Community Band
Activities: Always happy for an opportunity to hike or ski!