Return to Condo 94-6 .
Board Games in 94-6
Outburst
Scrabble
Backgammon
Trivial Pursuit
We also have a few puzzles around of varying levels of difficulty. Or listen to some tapes including a selection of popular music or read The Enjoyment of Music as you listen to the accompanying tapes. We also have the Hitchhikers Guide to the Galaxy on tape.
Bring along your own tapes, but leave your CD's at home as we currently do not provide a CD player.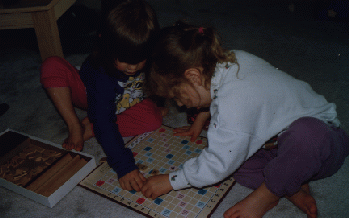 ---
Condo 94-6 / maintained by Wendy Myrvold / wendym@cs.UVic.ca / revised Nov. 4, 1997