Skiing at Mount Washington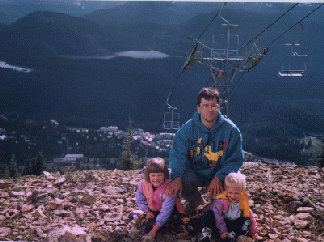 Are you going skiiing on Vancouver Island? Mt. Washington, near Courtenay/Comox has the best skiing on the island! And the best place to stay is on the hill.
Condo 94-6: Mt. Washington
Condo 94-6 is just one of the units available. Note: the condo is now fully booked for the 2003-04 ski season. It can accomodate a family of 8. Here's what you can expect:
Rates (subject to change without notice):
| | |
| --- | --- |
| Days | Cost per night |
| Midweek | 130 |
| Weekends and holidays | 190 |
Location
Condo 94-6 is conveniently located in the Village. The easiest way to get there is by catching a snow cat from the Village store.

If you do not have your own skiis, it's only a short walk over to the place where they rent them. Sign up for skiing lessons while you are there, or drop off the kids in day care (under 3) or ski school (3 and up). The tobogganing hill is your right just before you hit the ski rental building.

In the morning, you can strap your skiis on just outside the door. The Village Run takes you to the green chair where you can either get a free ride up so you can ski down to the lodge to buy lift tickets, or you can head over a bit further to the cross country lodge (next to the red chair) and pick up a lift ticket there.

The restaurant and bar are in the main lodge adjacent to the ski rental building in case you have an urge to eat out or to party the night away.
The unit
The unit is 1400 square feet and has floor floors. You enter from the basement where there is a mud room for removing and storing your skiis and boots. The next floor up has a bathroom with a bath/shower, and two bedrooms- one with a queen sized bed, and the other with four bunks for the kids. Check out the kid's toys and books hiding in the closet, including enough Duplo for the adults to have fun.
The main floor contains the kitchen, dining area, and living room. There's a Nintendo with lots of games or a selection of traditional board games. The TV is connected to a VCR and several movies are available in the unit.
The top floor contains a luxurious Master suite. Look over the glass wall to view the floor below. The bathtub in the ensuite has a bidet and a tub with jacuzzi jets.
Various cleaning supplies . are available in the unit in case you prefer to do your own clean up. We also supply a few other basic items.
Please sign our guest book before you leave and let us know if there are any problems. Happy skiing!
Keywords
Mount Washington, British Columbia near Courtenay on Vancouver Island. Skiing, Ski, Snow Boarding, Snow Board, Ski Lifts, Condo Rentals, Ski Vacations.
---
Condo 94-6 / maintained by Wendy Myrvold / wendym@cs.UVic.ca / revised April 8, 2002